USCHO.com DIII Front Page - 2009-02-24

That Time is Now

That time of year has finally arrived. Talked about over the summer, more frequently when players first lace up their
skates as practice opens, and then incessantly—in various forms—throughout the non-conference schedule, in league
games, and during holiday tournaments before reaching a crescendo here in February. It's playoff time. For some these
conference tournament games are mere appetizers to the full entrée (and delicious dessert for one lucky team) that
awaits them in the NCAA tournament. Far more others, however, need to win these single elimination contests. They
are necessary—imperative—rites to gain access to the über-selective dinner, with the glorious promise for an awards
banquet to follow. And USCHO's slate of respected columnists are once again here to cover every angle.
In SUNYAC, scribe Russell Jaslow recounts Brockport hosting their first ever postseason game and Geneseo returning
to their winning ways after a three years drought of emerging victorious from the dreaded play-in game.
He also provides more evidence of top-ranked Plattsburgh's amazing season, sheds much deserved light on Cardinals'
junior defenseman Eric Greene's charitable efforts (which netted him a spot among the prestigious
Hockey Humanitarian Award's top 10 finalists), and—of course—previews the upcoming league semifinals between
No. 1 Plattsburgh hosting Brockport and Geneseo traveling to No. 12 Oswego.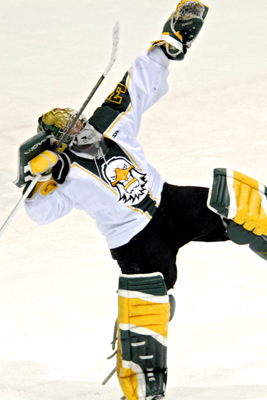 Photo by Angelo Lisuzzo
Stellar netminder Todd Sheridan celebrates Brockport's first playoff win in school history.

Similar preparations are underway in the ECAC Northeast. University of Massachusetts-Dartmouth head coach
John Rolli earned his 500th victory, a 4-2 win over Johnson & Wales, Saturday night. But, as told to correspondent
Paul Altmeyer, Jr., all that is on the mind of the Corsairs head coach is his upcoming quarterfinal match-up with
arch-rival Fitchburg State—and their 427 game winner, head coach Dean Fuller. UMass-Dartmouth is going for their
fourth consecutive playoff championship in their last season in the ECAC NE. In the stacked ECAC West, columnist
Scott Biggar has the first word on semifinal match-ups between unranked Neumann and No. 8 Elmira and the much
anticipated showdown between fifth ranked Hobart and No. 7 Manhattanville—teams who skated to two 1-1 ties in the
same barn just last weekend. And writer Tim Costello breaks down each quarterfinal match-up in both the ECAC East
and NESCAC. Finally, don't forget to check out Division III blogger Chris Lerch's first edition of his
annual D-III Bracketoogy. It's a must-read.