USCHO.com DIII Front Page - 2009-03-05
Crunch Time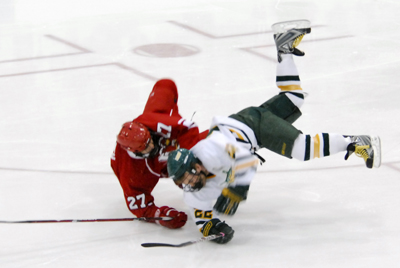 Photo by Angelo Lisuzzo
This crushing check by Peter Magagna (right) on Ward Smith
tells hockey fans all they need to know about the Plattsburgh-Oswego rivalry.

With the second Division III conference final now in the books—and Gustavus Adolphus,
by virtue of their 5-2 win, over Hamline already advancing to the NCAA tournament—our crack staff
of USCHO columnists preview what's ahead. Writer Scott Biggar has the inside scoop on the great
ECAC West title tilt between Neumann and fourth ranked Hobart. In the ECAC East and NESCAC,
correspondent Tim Costello breaks down all four semis and predicts who will win—and skate away
with—their respective league hardware. Similar analysis is done by intrepid reporter
Paul Altmeyer, Jr., who also does double duty in forecasting the title tilts in the
ECAC Northeast and Northeast 10. And it doesn't get any bigger than the showdown in SUNYAC,
where top ranked Plattsburgh again has to stymie arch-rival No. 10 Oswego if it wants
to be crowned champion. Columnist Russell Jaslow has the final word.