USCHO.com DIII Front Page - 2009-03-13
Elite Eight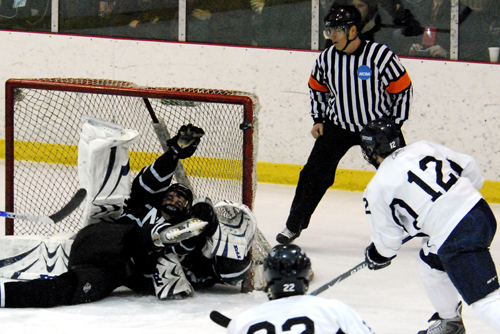 Photo by Angelo Lisuzzo
Eric Cremer (#3) falls on top of his Nichols goalie and makes a save with his hand
on #21 Nick DeCroo of Hobart. Note the puck in the air at the right post.

Amherst, Hobart, and upstart Neumann punched their ticket to the NCAA quarterfinals on Wednesday.
The seasons of Babson, Nichols, and Elmira are now over. Buoyed by four unanswered goals—including a pair
by senior forward Brendan Powers—the fourth ranked Lord Jeffs downed the Beavers, 4-1, despite being out
shot 49-42. Amherst advances to play Hobart at home in Massachusetts on Saturday. Speaking of the Statesmen,
they looked absolutely regal in their 3-0 whitewashing of Nichols. Ryan Adler, Gregory Alberti, and
Bryant Harris all tallied for Hobart, who also got 35 stops from Keith Longo—adding saves to his impressive
litany of school records held. And then you have the Neumann Knights. This year's Cinderella on skates
magical season continues. Their victory last week on the road over conference foe Hobart got them their
first ever NCAA tournament appearance. Their victory last night on the road over conference foe Elmira got
them their first ever NCAA tournament win. Now they have a date to visit top ranked Plattsburgh.
The hockey world will know before midnight on Saturday whether or not the slipper actually fits.