USCHO.com DIII Front Page - 2009-03-19
Skating Into History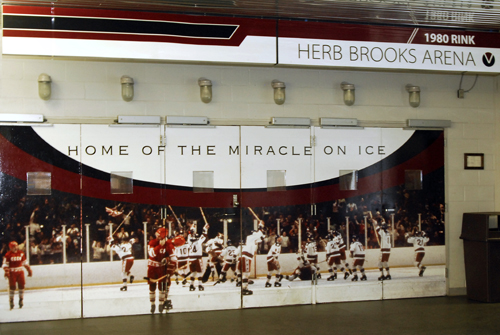 Photo by Angelo Lisuzzo
History is set to be made in Lake Placid as one team will win their first ever national championship.

A first time national champion will be crowned on Saturday night in Lake Placid. But who among
four non-winners will it be? As always, our crack staff of USCHO columnists provides insight and analysis.
In an all-ECAC West affair—easily the biggest match-up between these long-time foes—Neumann and Hobart
skate in the first national semifinal. Correspondent Scott Biggar has the scoop. Whomever emerges from
that Eastern showdown will get the winner of Gustavus Adolphus and UW-Stout, representing the West.
MIAC and NCHA columnists Josh Carey and Matthew Webb go in-depth to preview the historic contest.
Check back regularly over the next couple days for feature stories, game recaps, reporter notebooks,
and superb photography, covering all aspects of Division III's national championship weekend.