USCHO.com DIII Front Page - 2009-03-20
Down to Two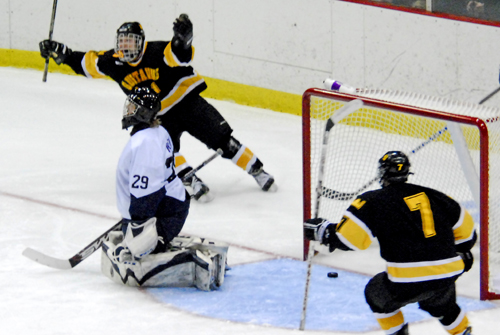 Photo by Angelo Lisuzzo
Gustavus Adolphus celebrates the game-winner in OT.

Defense wins championships, but in Friday's Division III semifinal games, it was as much about
timely scoring. In game one Friday in Lake Placid, Gustavus Adolphus punched their ticket with
a heart-stopping overtime win over UW-Stout 3-2. Patrick Dynan scored the game-winner at 6:31 of
the extra session. In the second game, Neumann and freshman goaltender Ross MacKinnon won a
classic goaltender's duel over Hobart and netminder Keith Longo. Though Hobart outshot
Neumann 36-24, Matt Ward scored a power-play goal at 11:16 of the third to secure the win.
Neumann and Gustavus Adolphus face off in the final Saturday at 5:00 p.m.