USCHO.com DIII Front Page - 2010-03-19
Final Two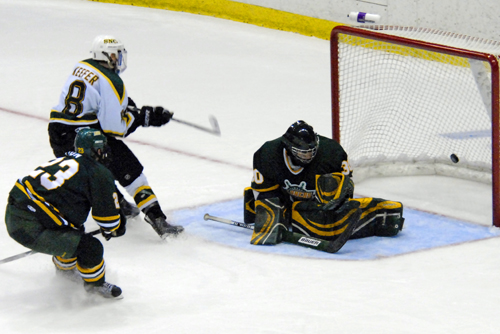 Photo by Angelo Lisuzzo
Cody Keefer scores the game-winner for St. Norbert late in the third.

Four of the top five teams in the country met in the semifinals in Lake Placid
on Friday. In the end, very little — two goals — separated them.
In the thriling early game, No. 3 St. Norbert upset No. 2 Oswego, 4-3, when
Cody Keefer scored the deciding tally with 39 seconds left in the game,
less than two minutes after Oswego had tied it. St. Norbert will face No. 1
Norwich, who edged No. 5 Plattsburgh, 3-2. Steve Coon notched the game-winning
goal for Norwich at 8:09 of the third and the Cadets withstood a furious rally
from the Cardinals. St. Norbert will faceoff against Norwich at 5 p.m. EST on Saturday.