USCHO.com DIII Front Page - 2010-03-20
Cadet Champions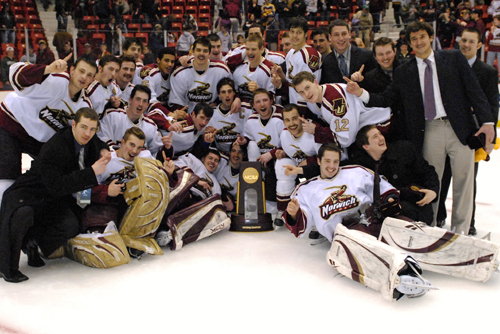 Photo by Angelo Lisuzzo
The jubilant Norwich Cadets celebrate their
third national championship and first in seven seasons.

In arguably the greatest Division III championship of all-time, the top ranked
Norwich Cadets outlasted the St. Norbert Green Knights, 2-1, in double overtime.
The classic tilt, and the hockey season, ended with just 31 seconds left in the
second extra session when freshman forward Pier Oliver-Cotnoir knocked in his
own rebound, winning the longest game in D-III history with an historic tally.
Green Knights netminder B.J. O'Brien stopped 70 shots in a
losing — but valiant — effort and was named the tournament's Most Outstanding Player.